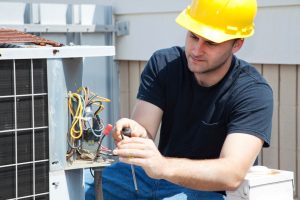 Sometimes you run into really dire air conditioning problems—one day your air conditioner works and the next day it doesn't. A lot of people think that problems like these are simply unavoidable. In actuality though, you can avoid these types of problems by staying educated. Knowing the signs of air conditioning problems can help you avoid a major problem in your home. If you notice something a little "off" about your air conditioning system it's time to contact our team for air conditioning service in St. Augustine, FL. If you're unsure of the signs pointing to major air conditioning problems make sure that you keep reading below.
A Few Signs that You Need Air Conditioning Repair
Here are a few major signs of air conditioning trouble. If you notice that you have these problems it means that you're at risk of an air conditioning breakdown. Contact our team today to schedule an appointment.
1.      Your AC Bill Takes Your Breath Away
If you have a rising AC bill you might mistake this problem as a side effect of your home's air conditioner working a little bit harder during a heat wave. It's important to remember that your air conditioner should always be able to withstand the heat for a reasonable price. If your AC bill has shot up during the summer it means that you're having a real efficiency problem that needs professional care.
2.      You Hear Odd Noises
Do you ever ride around in your car and hear very odd noises? You probably dread hearing these types of noises in your car because you know that it means that you're going to need repair services soon. Unfortunately, the same is true if this happens to your home's air conditioner. Listen out for noises like clanging, squeaking, grating, and rattling. One of our professionals can help you get your system back in shape.
3.      Your AC Is Ready for Winter Temperatures Instead of Summer Temperatures
Does your air conditioner look a little frosty? Ice or frost on your outdoor air conditioning unit is a bad sign anywhere but it's an especially bad sign here in Florida. If you're having a problem like this it means that you have a frozen coil or pipe in your home. If you need help getting your AC system back on track you can contact our team.
4.      You Have to Stand Right Next to the Vent to Feel Any Relief
If you can't feel a strong, steady stream of air coming out of your air conditioning system it means that you have significantly reduced airflow in your home. Reduced air flow could be attributed to something as simple as a clogged air filter or it could be something as big and inconvenient as a duct issue, compressor problem, or an issue with your blower. Make sure that you contact our technicians to make sure that they fix the problem the right way the first time.
If you need great air conditioning repair in St. Augustine make sure you contact our team at Climate Masters to schedule an appointment.