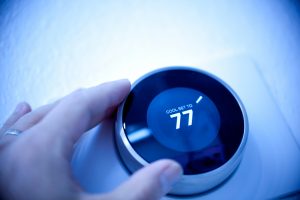 Has your air conditioning system left you wanting more this summer? So many homeowners feel this way in this early summer weather. If you fall into this category you might be dreading calling up a professional HVAC contractor and hearing a professional tell you that you need to replace your entire air conditioning system.
If you're feeling this way we have good news for you—this isn't always a necessity! Sometimes you can really boost the quality of your HVAC in St. Augustine, FL with a simple switch. If you haven't upgraded the thermostat in your home you can contact our team today to learn about your options.
What's Wrong with Your AC System?
So you've discovered that you're having trouble with your air conditioning system. This is a great start but finding the real solution to your issue begins when you pinpoint the source of your problem. Are you experiencing any of the following air conditioning problems?
Your Air Conditioner Shuts Off Unexpectedly
You come home, turn on your air conditioner, and then sprawl out on the couch waiting for the cool air to hit you after a long day in the sun. A faulty thermostat will give you a rude awakening in the scenario when it switches off your air conditioning system before your cooling cycle is complete. "Short cycling" or "hard starting" describes the process of your air conditioner turning on, running, stopping, and then starting up again in a very short amount of time. If you notice this happening in your home it's a great idea to take a closer look at your thermostat.
Your Room Never Gets Cool Enough
Sure, your thermostat display says the room is 72° but it sure doesn't feel that way! If you're in this type of predicament make sure you don't second guess yourself. You're not crazy—your thermostat is! A poor installation job or an old, tired thermostat can mean that your air conditioning system is a little off kilter. Make sure you check that you're running your air conditioner at an appropriate temperature. If you still have a problem it's time for you to contact our professionals.
You Just Can't Get Cool!
Do you have trouble getting cool or staying cool in your home? The trouble is probably with your thermostat. A faulty thermostat will make it nearly impossible for you to achieve real home comfort without a struggle. If you're tired of fussing with your AC system it's time to sub in our technicians.
The Simple Solution
It's time to upgrade to a smart thermostat! Upgrading to a smart thermostat isn't just about making your home tech-savvy and streamlined—it's also about getting more from your air conditioning system. Smart thermostat technology is relatively new but it's also a booming niche. There are so many differing smart thermostats on the market that it can be a little overwhelming. If you're ready to switch to a smart thermostat but you're a little unsure of where to start you can contact our team.
Upgrade your thermostat with the assistance of our professionals at Climate Masters. Contact us to schedule an appointment today.