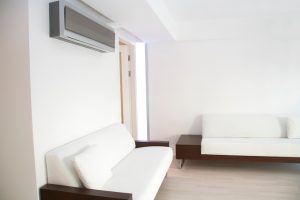 This is the time of year where you should start thinking about the quality of your air conditioning. We have a long, hot summer ahead of us and you shouldn't struggle through it with a subpar air conditioner. If you decide that you want to upgrade your air conditioner before the temperatures heat up then make sure you consider all your options.
You don't have to install another central air conditioner just because it's what you're used to. Ductless mini split systems are a great option for your home here in Florida. If you're interested in this system, contact our team to learn more about your air conditioning in St. Augustine, FL.
What's a Ductless Mini Split?
Ductless mini splits aren't something that every homeowner knows about, so we want to run through the basics before we get into the advantages and disadvantages of these systems. A ductless system (also referred to as a ductless mini split system) is a heat pump system that uses a group of air handlers to cool or heat your home as opposed to a centralized network of ducts.
The air handlers that a ductless system uses are wall-mounted and able to function independently from each other because they all have separate thermostats. This means that you can cool each of your home's rooms individually. If you'd like to cool your home the way that you would with a central AC you can do so with a ductless system. In addition to the separate thermostats, there's a master thermostat that controls every air handler in your home.
Why You Should Go Ductless
So all that above sounds great, right? But why should you really go ductless? Well, the details listed below are a few reasons:
#1. Greater Comfort: One of the best things about a ductless system is that you can customize your comfort. Do you have an upstairs bedroom that seems to turn into something of a sweat lodge on those hot summer nights? Do you hesitate to turn on your AC because you don't want to pay a sky-high electric bill? You can bypass this problem with a ductless system. Our technicians can install an air handler in your bedroom, and you can cool this home individually during our upcoming warm summer nights.
#2. Energy-Efficiency: A great aspect of ductless HVAC is that you don't have to cool or heat your entire house if you're uncomfortable in one room. The adaptability of this type of system will ensure that you don't waste any energy getting comfortable this summer.
#3. Versatility: A great thing about ductless HVAC systems is the fact that they're versatile. Since it's a heat pump system that means that you can both heat and cool your home using the same unit. This level of convenience is unmatched by any other air conditioning system.
If you're thinking about going ductless and you need a little guidance you can come to our team at Climate Masters. Contact our team today to schedule an appointment.