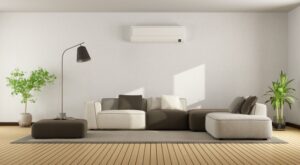 It may seem odd for us to be talking about heating at all, during this time of the year. After all, it's not like we need our heaters once spring hits. But if your heater was struggling this past winter, then it's not a bad idea to look into your replacement options sooner rather than later. This is especially true if you're considering a heat pump system—that is, a system that operates not only as a heater, but as an air conditioner as well!
Ductless systems have become increasingly popular for climates like ours—where summers are stifling hot and winters are mild (not to mention short). But, is a ductless system right for your specific home? These systems operate on heat pump technology, and as the name implies do not rely on a network of ducts. Rather, they consist of one outdoor condenser unit connected via refrigerant, power, and condensate lines to up to 4 indoor air handlers that can be mounted on the walls inside your home.
These systems have what's called a reversing valve, which is the component that allows you to switch between heating and cooling mode.
But is this right for your home? Read on to find out!