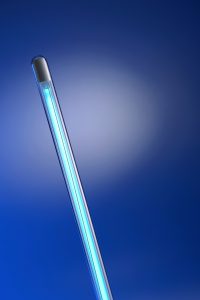 In the middle of summer, it is pretty easy to think that staying cool is the only thing you need to focus on for your home. However, you also need to take steps to ensure that your indoor air quality stays high. Low indoor air quality can dramatically impact both your health and comfort levels all year-round. This is especially problematic during the summer, when people will often cut off the fresh air flowing into their homes by shutting doors and windows. Fortunately, there is a way to improve your indoor air quality without sacrificing climate control.
Most people have low indoor air quality because they have high amounts of microscopic airborne contaminants in their air supply. The average home has all kinds of airborne contaminants floating around in it, including dust, dander, mold spores, germs, and pollen. Long term exposure to these kinds of contaminants can cause a wide range of negative effects, from the flu to asthma. The best way to address these contaminants is to install an air filter or air purifier.
Types of Air Purifiers
There are many types of air purifiers on the market, some of which include:
Air Filters: air filters are made from a fiber mesh, which is stretched across a section of the ducts. Air can flow freely through the filter, but any contaminants it carries will become snared in the fibers. All the filter needs to stay effective is to be changed every three months or so. Otherwise, it can become clogged with all the debris it captures.
Ionization Purifiers: An ionization purifier is a powered air purifier that releases a cloud of ions while it's operating. As contaminants come into contact with this ion cloud, they become heavier and heavier until they drop out of air circulation. Then, all you need to do is have the ducts cleaned every once in a while to get rid of them.
UV Air Purifiers: A UV air purifier does not physically remove any contaminants from your air. Instead, it puts out high levels of ultraviolet light. Many kinds of germs and mold spores are phobic of UV light, and are either sterilized or destroyed upon exposure. A UV air purifier protects you from getting sick by lowering your chances of infection by these contaminants.
These are just a few of the many kinds of air purifiers on the market. You obviously don't need to install more than one of them, so which one should you go with? Which air purifier you choose should be dependent on your own independent needs. The best way to ensure that you get the ideal air purifier for your needs is to consult with a professional. They'll be able to evaluate your home, and recommend the best system for your needs.
Climate Masters provides a full range of air filtration and purifier services in Palm Coast, FL. If you need an air filter or purifier installed or serviced, we can help you out. Contact us today to schedule an appointment with one of our technicians.