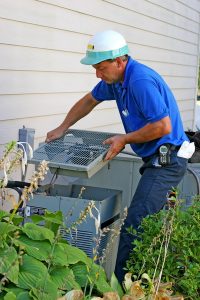 While other parts of the country are still using their heaters on a fairly regular basis, here in Florida we're ready to say hello to our air conditioners again for another 9 months or so. That's a lot of work for your air conditioner to go through! Is it ready?
See, the issue with blasting your air conditioner day after day is that in our climate, it pretty much runs nonstop. This means wear and tear happens faster and efficiency is reduced. Therefore, you'll see yourself calling for repairs often and potentially even dealing with an air conditioner replacement long before the typical 10-15 year lifespan.
This doesn't have to be the case, however! There are plenty of ways you can boost your AC efficiency that in turn will mean you actually use it less—and it will last longer as a result! Keep reading for some great efficiency-boosting tips.
Use Your Ceiling Fans!
We want to start by saying, that no ceiling fan can lower the temperature of a room. Ceiling fans are meant to circulate air, and help you feel cooler by helping sweat evaporate from your skin.
That said, they're a great thing to use in combination with your air conditioner! When you use your ceiling fans to feel cooler, you are able to turn your thermostat up a couple of degrees, and then your air conditioner doesn't have to run as long—thus it runs more efficiently.
Close Your Curtains
We don't need to tell you that being in the sun is far more heat-inducing than being in the shade. The same goes for your home. While we can't hide your whole home from the sun, you can reduce the heat a bit by ensuring you close your blinds and curtains—especially on south-facing windows. This will help keep excess heat out, and may allow your AC to run for less time.
Take Shorter, Cooler Showers
You might be surprised by how much the temperature in your home can rise just because you took a hot, steamy shower. Hot showers add moisture into the indoor air. Air conditioners do have dehumidification properties, however that is not their sole purpose. Therefore they have to run longer and work harder when you make it hot and humid inside your home.
Use a Programmable Thermostat
Are you still using a manual slider thermostat, or even a very basic digital thermostat? We urge you to consider upgrading to a programmable thermostat. This allows you to preset certain temperatures for certain hours of the day. This way, you never need to worry about wasting energy, particularly if you're not home. Programmable thermostats lead to more efficient HVAC use, and lower energy bills as a result.
Change Your Air Filter
Many homeowners believe that the air conditioner's air filter is in place to protect their indoor air quality. While it certainly doesn't hurt, it's actual intended purpose is to protect the cooling system itself from dust, dirt, and other debris that can accumulate on the inside components and cause your cooling system to work less efficiently.
Schedule Maintenance
If you haven't scheduled AC maintenance yet, now is the time! A thoroughly cleaned, inspected, and adjusted air conditioner will work as efficiently as possible, for long-lasting comfort at a low price.
Serving St. Johns County since 1988 with quality, hometown service, Climate Masters is your St. Augustine, FL air conditioning experts! Contact us today.