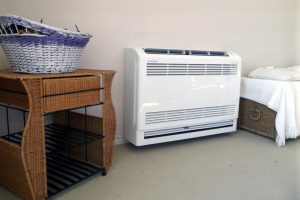 Springtime is here—it's the time of year that we encourage homeowners to schedule their annual maintenance for their air conditioners. We do so this time of the year because it's a season when HVAC technicians aren't as busy with emergency calls—while we never get a huge reprieve from the heat, temperatures are on the relatively mild side for now.
This means it's easier to schedule a convenient appointment for technicians to come to your home to ensure that your AC system is ready for the summer heat. But, what if you utilize a heat pump? Perhaps you had maintenance done a while back, does it really need another maintenance appointment?
Yes! Read on to learn why.
An HVAC System with Two Jobs
Try not to think of maintenance more of general "HVAC maintenance" rather than "air conditioning" or "heating" maintenance. You might think since you barely use your heat pump as a heater, and already had maintenance done 6 or so months ago, it doesn't need another tune-up.
But, you need to prepare any HVAC system to handle the rigors of extreme weather. So if you're using a heat pump, you're using a system that both heats and cools from a single unit.
Heat pumps are not two separate systems packages together. A heat pump uses the same component to operate, whether it is in heating or cooling mode. The compressor runs no matter what, and circulates refrigerant through two sets of coils, indoor and outdoor, and the blower fan sends the cooled air into the ventilation system.
The only different between heating and cooling mode is the direction in which the refrigerant moves, which changes the direction the heat pump transfers heat.
A System for All Seasons
Heat pumps in Florida don't get a whole lot of work in the winter. But they do get used, and even though the stress on the system may be relatively less than other parts of the country, it's putting strain on the heart of the system—the compressor. That compressor requires special attention to ensure that your HVAC system will run as effectively and efficiently as possible—and when you have a heat pump that means all year long!
If your compressor fails, it means your entire heat pump is at risk. Typically if you have to replace a compressor, you have to replace the whole heat pump. Why do this prematurely when you can schedule maintenance on a routine basis?
What Happens During Heat Pump Maintenance?
During your maintenance session, our technicians thoroughly inspect your heat pump, checking for signs of wear and tear, as well as any repair needs that might be present. We'll make appropriate adjustments to your heat pump, and clean the interior of the system.
Lots of dirt, dust, and other debris can build up on the interior components, and this cleaning helps the heat pump perform as efficiently as possible, plus extends the lifespan of your HVAC system.
For quality St. Augustine HVAC service, contact Climate Masters! Serving St. Johns County since 1988 with quality, hometown service.