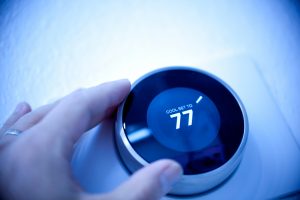 Yeah, yeah, we know that summer is a rather abstract concept when it comes to Florida. To us, summer is that time of year when everything gets just a bit hotter on average than the rest of the time. Nevertheless, though, you probably are going to be putting more demand on your air conditioner during the summer than at other times of the year. If you want to make sure that your air conditioning system is able to keep you comfortable through this summer, and for many summers after, have a look at some of the ways you could upgrade it over the next few weeks.
Thermostat Upgrades
One of the cheapest, and most effective, ways to upgrade your system. The thermostat is the "brain" of any HVAC system. Without it, your air conditioner wouldn't be able to cool your home well at all. Yet, this tiny device is often among the most neglected parts of the HVAC system. If you want to improve the energy efficiency of your air conditioner, a good place to start would be upgrading the thermostat. Modern thermostats offer all kinds of added functionality to help you save money and become more comfortable. Smart thermostats, for example, learn from your climate control habits and eventually adjust themselves without your input. This can go a long way towards saving you money on your annual costs.
Zone Control
One of the biggest problems with centralized air conditioning systems is that they apply the same amount of output to the entire home. This does not account for differences in insulation, sunlight exposure, and all kinds of other factors that affect how much output each individual room needs. Central air conditioners have a habit of wasting a lot of energy with their one-size-fits-all solution. Zone control helps with this.
A zone control system uses dampers and multiple thermostats to control how much output each part of the home receives from your air conditioning system. This will prevent the air conditioner from wasting as much energy, and it will also grant you much finer control over the climate control in individual rooms. This is quite the advantage, especially if you live in a home with other people.
Install an Entirely New Air Conditioner
No amount of maintenance, repair, or minor upgrades can stave off age and use forever. Eventually, you're going to have to accept that your air conditioner is too old and needs to be replaced entirely. If your air conditioner has reached the point where it cannot keep you reliably cool, now is the time to replace it. Better to do it now, before the hot months hit, than to be miserable later with a system that doesn't actually work.
Climate Masters offers comprehensive air conditioning upgrade services in St. Augustine, FL. If you need air conditioning services of any kind, we're here to help. Contact us today to schedule an appointment with one of our experts. We'll make sure that you get the perfect air conditioning solution for your needs.