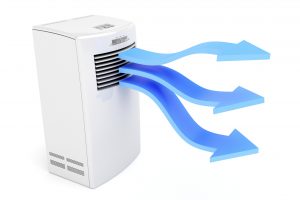 The days continue to heat up, which means you're probably running your air conditioner for at least a couple hours on a daily basis. Of course, more use means more wear and tear, which means more problems. More chances for problems to develop, at least. One of the first warning signs that an air conditioner is experiencing problems is strange noises coming from the system. Let's take a look at some noises that should get your attention, and what causes them.
Grinding
Your air conditioner circulates air around your home using an air handler, which is a fan attached to a powerful motor. The motor contains lubricated bearings, which help to reduce friction while it's operating. Wear and tear affects these bearings just as much as any other part of the system. Eventually, they will become worn down to the point that the friction on the motor will begin to increase significantly. This added friction will cause a loud grinding sound to come from the air conditioner while it's on. If you hear this noise coming from your air conditioner, call for repairs as soon as you can. The bearings will need to be replaced, before the motor overheats and burns out.
Hissing
If you hear a hissing sound, like the air being slowly let out of a tire, it means that you probably have air bubbles in your refrigerant line. This is a problem, because it means that you have a leak somewhere in the system. Your air conditioner relies on its refrigerant in order to cool your home, and if the fluid level drops too low, the system will eventually break down. Have a professional examine your air conditioner if you notice it making this sound. If the leak isn't patched, and the lost refrigerant replaced, you'll have to pay much more in repair costs later on.
Short Cycling
This one is both a sound and a behavior. Short cycling is when your air conditioner turns itself on and off faster than it should be, roughly every 3-5 minutes. This can be caused by a number of things, including a damaged compressor or a short circuit. The effect is the same, though. Short cycling ramps up the rate at which your air conditioner wears down, along with hobbling the amount of output it can generate. If the system is allowed to short cycle for a long period of time, various parts of it will start to break down under the added strain. Repair needs will spike, and the overall lifespan of the air conditioner will decline. So, if you notice your air conditioner doing this, make sure that you turn it off and call for repairs as soon as you can. Letting your system continually short cycle is never, ever a good idea.
Climate Masters provides a comprehensive range of air conditioner repair services in St. Augustine, FL. If your air conditioner is making strange noises, and you think it may need repairs, contact us today for an appointment.