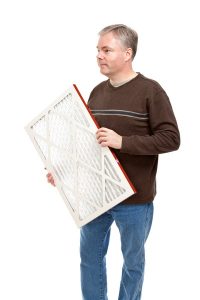 If you think the only reason you should change your air filter is due to the allergens and particles in your indoor air, you're only partially right.
Many homeowners do, in fact, assume that a dirty air filter is an issue because it keeps the air in their homes dirty, and that this is why we advise to change that air filter every 1-3 months. So if you aren't suffering from allergies in the moment, this means your air filter is fine where it is, right?
Well, not quite—you see, while an air filter does help with indoor air quality, this is not actually its intended purpose. Rather, it is in place to protect the interior components of your air conditioner, or forced air heater. Read on to learn more, and to get the answer as to why you must change your air filter.