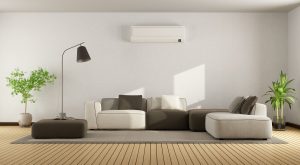 If it's time for you to place your home's air conditioner, you may be shopping around to see what your options are. Breaking it down at a base level, you have two main options to consider. The first is a more traditional forced air system that uses ductwork, and the second is a ductless air conditioning system. Within these two types of systems, you have additional options such as brand and size.
Both options are great, and each one has its own unique pros and cons. You can keep reading to learn more about your AC options. Then, stop searching online for 'air conditioning installation near me' because you've already found the experts in our area: the Climate Masters team. Our technicians can help with any air conditioning project, big or small, including overhauling your existing air conditioner with a brand-new unit.
Pros and Cons of a Forced Air AC System
Many homes already have a central heating and cooling system, also called a central HVAC system. The systems often handle heating and cooling all in one, since your air conditioner and furnace are all connected to the same system. This can be a huge benefit for many homeowners.
If your home already has a central AC with a system of ductwork, you may be tempted to choose another similar system for an AC replacement. It's true that this can mean less work since you already have ductwork installed and your home is set up for that type of system.
Plus, there's not too much you have to do by way of regular maintenance for a central air conditioner. Change your air filter on a timely basis and schedule annual maintenance checkups with our team of experts.
However, forced air AC systems also have potential downsides. While they are cheaper to install, they often cost more to operate every month when it comes to energy costs. Any potential savings you may benefit from upfront can end up costing you over the life of your unit.
Pros and Cons of Ductless AC Systems
Compared to a central air conditioner, ductless units are more expensive to install. This is because you are essentially paying for a mini air conditioner to be in every room or zone of your house. They can also require more maintenance since you have to clean out the filters thoroughly at least once a month in every single unit.
But ductless air conditioners also have really strong benefits. Like a central HVAC unit, a ductless AC is heating and cooling all in one because it uses a heat pump. You can also reduce your monthly energy bills substantially with possible savings of thousands of dollars over the life of the system. In fact, the savings should eventually outweigh the higher initial installation cost.
The units also take up less space in homes where the space for ductwork is an issue. If you have a smaller or older home that doesn't already have a central air conditioner, you don't have to worry about making space for all of that ductwork.
Serving St. Johns County since 1988 with quality, hometown service. Schedule an appointment with the Climate Masters team today!