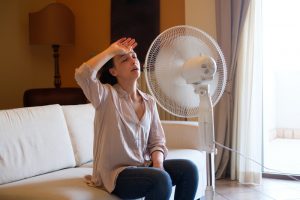 Living in Florida means that we deal with humidity year-round. As we look towards summer, we already know that humidity levels will be even higher when it is hotter outside. You may be thinking about how to combat the humidity this year so that your home is more comfortable.
We have many customers ask us: Do air conditioners dehumidify? While your AC unit does help some to control humidity levels, it can only do so much. Keep reading to learn more about the role your AC plays in maintaining balance when it comes to the humidity levels in your home.
Tips for Maximizing AC Dehumidifying
Automatic Fan Setting
When it's really hot outside, you may be tempted to set the fan cycle on your thermostat to "On." However, this does not allow your AC to decompress in between cooling cycles. Ideally, you want to set your fan to "Auto" so that condensation that gathers on the coils can drain adequately. Leaving your fan set to "On" may actually increase humidity levels in your home by blowing some of this gathering moisture back inside.
Fan Speed
When your AC fan is on, you also want it to blow at a low to moderate speed. You may think that faster is better, but it's not true when it comes to managing humidity levels. Sure, you get cool air faster, but it doesn't allow time for humidity to separate out of the air and funnel outside.
Air Filter
Be sure to change your air filter on time each month. You may even want to check it a little early and change the air filter sooner if it is particularly dirty one month. Allowing the filter to get clogged with dust can actually trap moisture inside your AC unit, increasing your humidity levels.
When humidity levels are high inside your air conditioner system, you run the risk of developing a breeding ground for mold and airborne bacteria. If you smell mold when you run your AC, schedule service with us to have it checked out.
Clean the Outdoor Coils
The coils on your outdoor unit are responsible for removing heat and humidity from the air circulating through your home. If these coils get too dirty, they are not as effective at filtering out heat and moisture. This can lead to lukewarm air and higher humidity levels. Just spray off the coils with gentle pressure using your water hose. Keep in mind that too much water pressure can cause damage, so don't use a high-pressure nozzle.
Other Solutions
Keep in mind that even with these tips, your air conditioner can only do so much to dehumidify your home. If you're concerned that humidity levels are too high, you can install a whole house dehumidifier. It's an investment in your comfort, but it can also lighten the load on your air conditioning unit so that your AC can work more efficiently at cooling your home.
Serving St. Johns County since 1988 with quality, hometown service. Schedule an appointment with Climate Masters today for all your AC needs.