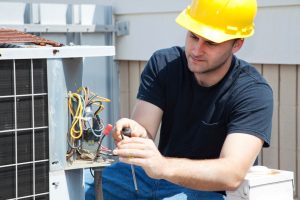 The weather may be cooling off ever so slightly, but you're probably still not going to have to use your heater any time soon. It's important that you keep a close watch on your air conditioner for as long as you're using it, to make sure that it's still up to the task of keeping your home cool for the foreseeable future. If not, it's a good idea to replace it now rather than wait for it to break down entirely. There are a number of symptoms that may indicate that it's time for a new air conditioner, some of which are listed below.
Escalating Monthly Costs
It makes sense that the more you use your air conditioner, the more you can expect to pay in monthly electric costs. However, you should still keep a close eye on your monthly bills for signs that the system is costing more than added usage should account for. Unexplained jumps in the cost of operating your air conditioner might mean that the system is beginning to lose efficiency due to years of wear and tear. As a system gets towards the end of its life, it will have to operate for longer periods of time to affect the same temperature changes. This contributes to higher monthly bills. There isn't much that can be done about this level of wear and tear, aside from replacing the system.
Constant Repairs
It's not a big deal if you need to repair your air conditioner a few times throughout its life. You shouldn't need to repair it more than once every few years, though. If your air conditioner is breaking down multiple times a year, you have a big problem. Oftentimes, that level of repair needs is reached when parts of the system start to fail in groups from old age. This will only accelerate the more you use your air conditioner. If you are experiencing this problem, the best thing to do in terms of cost effectiveness is to install an entirely new air conditioner. If you think about it, the choice is either to do that or to replace your current system one part at a time.
Older Than 15 Years
Under ideal circumstances, you can expect your air conditioner to last right around 10-15 years. That will vary with individual situations, of course, but not by very much. You can potentially keep an air conditioner up and running long after that, but it will cost you quite a bit more and the system won't work as well. A system older than 15 years often accumulates a range of issues like those we discussed above. The longer you insist on keeping an old system up and running, the more money it's going to cost to provide you with subpar air conditioning. Better to install a new system now, and save yourself both money and frustration.
Climate Masters installs and replaces air conditioners in Hastings, FL. Contact us today to schedule an appointment with one of our expert technicians.