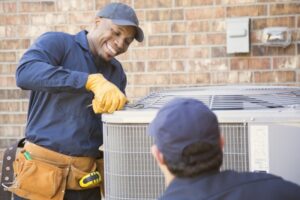 You've likely read how important AC maintenance is, but do you actually know why? Because it's such a technical job, most people leave it to the professionals and never ask for details. But understanding AC maintenance, what it does, and how it works, can actually help you take better care of your system.
Maintenance is one of the most in-demand and much-needed services for anyone who has an air conditioner, especially here in Florida. 
At Climate Masters, we offer AC maintenance whenever you need it, and we always encourage our customers to book their next maintenance call early to keep their system running smoothly.
In this post, we want to fill you in on what really happens when you schedule AC maintenance and why it's so important.
The Reason for Professional Maintenance
A professional knows how to safely inspect and manipulate the inner workings of your AC, including its electrical components. 
The only DIY AC maintenance we recommend doing on your own is cleaning and replacing your air filter. This is a simple and easy task that we can happily show you how to do on your own. 
When it comes to internal maintenance, HVAC pros know exactly what to look for to detect potential problems and prevent them from becoming issues. 
This saves you energy, money, and gives you peace of mind that your system is always optimized for efficiency and performance. 
What Happens During AC Maintenance?
Some of the tasks our technicians run through include cleaning your AC's coils, checking your refrigerant level, testing electrical connections, and cleaning the condensate pan. 
All of the pieces of your AC are interconnected, and an issue with one part can quickly cause others to break down as well. 
In addition to checking your overall system's health, your technician will also perform a thorough cleaning to remove any dust, debris, and moisture that could cause issues later. 
They'll also check your thermostat to make sure it's properly calibrated. This can prevent unnecessary costs, energy use, and dreaded short cycling. 
What Happens if You Skip AC Maintenance?
Each year without maintenance can increase your home's energy consumption by 5%. So, even if your system runs well, you will still pay more to operate your AC if it hasn't been maintained by a professional. 
You'll also face the risk of higher costs and unnecessary repairs. Most AC repairs are preventable with regular maintenance. This is because a licensed technician can spot potential hazards and ensure they never turn into full-fledged problems. 
At the worst, skipping maintenance shortens your AC's lifespan. A system that might have lasted 15 years could need to be replaced in as few as 7 years without routine care. 
How Often Should You Get AC Maintenance?
We recommend getting a professional AC maintenance service at least once a year. If you tend to rely on your system heavily year-round, then twice a year may be necessary. 
If you're ready to book your next appointment, our team is always ready to help. 
Contact Climate Masters today for professional air conditioning services in St. Augustine, FL. Serving St. Johns County since 1988 with quality, hometown service!