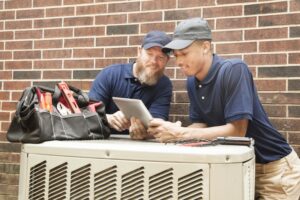 Maintenance is one of those services that when you hear an HVAC professional suggest, you might want to just dismiss. Unless something is severely wrong with your air conditioner that's causing it to function improperly, you probably don't want to spend money that you don't have to spend, right?
But the fact of the matter is, when you skip maintenance you might very well find yourself spending money you shouldn't have to spend. Maintenance for your air conditioner is just as essential as maintenance for your car. If you want either to do their job as effectively and efficiently as expected, then you need to provide it with preventative care.
The Power of Professional Maintenance
We hope that if you've been living in Florida for awhile, that you have some experience with AC maintenance. This service allows our technicians to comprehensively clean, adjust, and inspect the interior components of the system. This helps us ensure too that there are no glaring repair needs.
If we do notice something that's out of place or may need a repair soon, we'll alert you to it right away so you can get AC repairs on your schedule sooner rather than later. When you take care of small repairs now, it means you can possibly avoid big emergencies or potentially even a complete AC breakdown in the future.
When Is the Best Time to Schedule Maintenance?
This is a great question, and one we get a lot! Generally speaking, we suggest that you schedule your AC tune-up right before you actually need your system the most. This typically means early spring, but with our weather it could even mean wintertime.
"So is it too late?"
Nope! It's never too late to schedule air conditioner maintenance. The time of year you have maintenance done is far less important than how often you have it done. For a standard air conditioner, maintenance should be completed once a year. If you have a year-round heat pump, then this should be bumped up to every 6 months.
If you choose to have your air conditioner maintenance done in the middle of summer, that's fine as long as you understand it may be harder to schedule a tune-up when HVAC technicians are at their busiest.
Improve Your Home Comfort and Safety
Routine air conditioning maintenance will help you improve both your home comfort and safety. Throughout the years, your air conditioner goes through a lot of natural wear and tear. Eventually, this causes the system to work less efficiently, running longer and longer to try to reach your desired temperatures. This hurts your wallet and your comfort. But regular tune-ups help the system retain up to 95% of its efficiency throughout its lifespan.
And then when it comes to safety—air conditioners are not inherently dangerous. However, they have components that could make them harmful if in the wrong hands—such as refrigerant and coils that house that refrigerant. Professional maintenance will help ensure this will never be a problem.
Contact Climate Masters today to schedule your St. Augustine, FL HVAC maintenance.