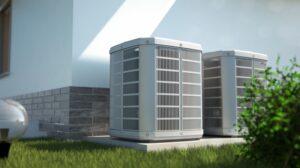 Heat pumps have a lot of benefits, but there is one potential downside that a lot of homeowners get caught up on. Since your heat pump is working year-round to provide both heating and cooling for your home, it requires maintenance twice per year instead of just once per year.
You may be wondering if you can skip out on that second round of maintenance and only schedule it once per year. However, heat pump maintenance twice per year is crucial for the life of your unit. You can keep reading to learn more about why biannual maintenance should be a priority for your heat pump every year.
Why Biannual Maintenance?
Your heat pump is a two-in-one system. This means it offers both heating and cooling. Many air conditioners also have a completely separate attached heater, so each system gets a break during a portion of the year. But a heat pump uses all of the same components to offer both heating and cooling. It doesn't get a break unless you choose to turn it off. It runs around the clock all year long.
In the summer, your heat pump works by removing heat from the air and transferring it outside. In the winter, it works by bringing in some of the heat from the air outside to warm your home. It does still have a refrigerant line but doesn't use fuel as many heaters do.
Fewer Repairs
Skipping out on even just one maintenance appointment makes it more likely that you will face repairs for your heat pump later on. We understand that life happens and you may have to skip an appointment here or there over the life of your heat pump. But, it is crucial that you prioritize maintenance once each year for your heat pump as an air conditioner, and another time each year for your heat pump as a heater.
Maintenance is an important opportunity for us to tweak your system and make sure it is always in good working order. We want to catch problems before they get out of hand. Skipping a heat pump maintenance appointment can mean that a small problem has the opportunity to grow into a big problem. Fixing smaller problems now means fewer repairs later on. Ignoring problems means more frequent and likely more expensive repairs later on.
Energy Savings
Maintenance is also a great way to maintain your heat pump's energy efficiency. As parts wear down, your heat pump has to work harder to provide cooling for your home. When our team has an opportunity to tighten parts and keep your heat pump in its best possible shape, it is going to be more energy efficient. 
This means that your energy bills won't creep up and get more and more expensive over the life of your unit. Those energy savings can really add up, and even offset the cost of having maintenance twice per year. You may think that skipping out on biannual maintenance for your heat pump is saving you money, but you'll just be spending the money on higher energy bills instead.
Longer Lifespan
And when your heat pump uses less energy, it also takes on less wear and tear. The harder your heat pump has to work, the shorter its lifespan will be. If it can work less to produce the same results, it's going to last longer. Plus, heat pump maintenance is a great way to take care of your investment, and even potentially extend the life of your heat pump past the average lifespan of 15 years. With proper care, it is common for heat pumps to last for 20 years or longer.
Climate Masters: Serving St. Johns County since 1988 with quality, hometown service. Contact us today to schedule an appointment for a heat pump.