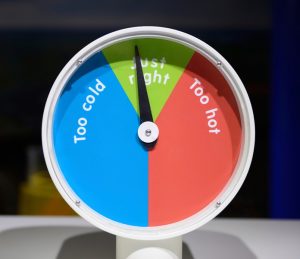 Your heat pump probably spends a lot more time in cooling mode than heating mode around here. Still, you probably don't want to go totally without the ability to heat your home. There are going to be at least a few days where you're going to want your heat pump to, you know, heat. If your heat pump seems to be stuck in cooling mode, it's probably because of a problem with your reversing valve. Have a look at how the reversing valve operates, and how a problem with it can lock your system into cooling mode.
The Reversing Valve
The reason your heat pump can switch back and forth between cooling and heating mode is that it can change the direction that refrigerant flows through the system. This is done by using a reversing valve, which sits in the refrigerant line. It's a four-way valve that contains a slide, which moves back and forth between two positions. In one position, the system is in cooling mode, and in the other it's in heating mode. The slide is moved back and forth by the solenoid, which is a kind of electromagnet.
Problems That Can Afflict the Reversing Valve
There are typically two different issues that can lock up the reversing valve, and lock the heat pump into either heating or cooling mode as a result. The first possible problem is that the slide is stuck in the valve. If this is the case, you just need to have a professional open up the valve and reset the slide to restore it to proper condition. The second possible problem is that the solenoid has lost its charge, preventing the heat pump from moving the slide to switch modes. If that has happened, the only thing to do is to replace the solenoid entirely. Regardless, fixing the problem with the reversing valve should restore the system's ability to switch back and forth between modes.
The reversing valve is a small part of the overall heat pump, but it's a vital part. It's important that you make sure that the part stays in good operating condition if you want to be able to make full use of the system. The best way to do that is with preventive maintenance, which can stop a lot of issues like these before they start. Even with regular maintenance, though, there is a chance that you will have to deal with some kind of problem between maintenance appointments. If that happens, you should call for repairs as soon as possible. The faster you have a professional repair your system for you, the more damage to the heat pump you can prevent. Whether you need maintenance or repair services, make sure that you have a professional you can trust take care of it for you.
Climate Masters provides comprehensive heat pump repair and maintenance services throughout St. Augustine, FL. If you need help with your heat pump, contact us today to schedule an appointment with one of our experts.