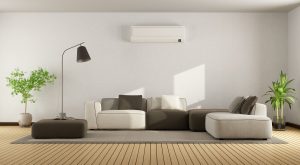 Also referred to as the ductless mini-split, the ductless system is known for its efficiency, efficacy, and space-saving nature. They provide residents throughout St. Augustine and beyond with year-round comfort, all with just the flip of a switch—something we'll expand on later in this post.
Choosing the right air conditioner, or even heating system as seldom used as it may be, can be an overwhelming process. Going ductless is just one option among many, but if it's one you're considering, then this post may help you make your final decision. Read on!
What's a Ductless System and Why Should You Care?
As the name alludes to, a ductless system is a heating and cooling system that doesn't rely on ductwork. Rather, it's comprised of a singular outdoor condenser unit connected via a conduit to up to four indoor air handlers. These conduits contain a power cord, refrigerant line, and condensate drain line, and are snaked through a hole we drill in the walls of the rooms where these will be installed.
Ductless systems work much like central air conditioning systems, moving heat from one area to another. A reversing valve is the component needed to switch the flow of refrigerant, allowing for summertime cooling and wintertime heating. To cool the home, heat is absorbed from inside your property and transferred outside, while to heat the home, heat is absorbed from outside.
So why should you care? Why should you go ductless? We have 4 reasons, actually!
1.      They Are Versatile
As mentioned, ductless systems can both cool and heat your home, allowing for year-round comfort. With the flip of a switch on the main thermostat, you can go from heating to cooling mode and vice-versa. Additionally, each air handler's thermostat can be controlled independently of the others. No more family squabbles over what temperature to keep your home!
2.      They Save Space
Installing ductwork can be a difficult and expensive process if you don't already have air ducts in place, especially depending on the layout of your home. If you have a very small home, you may not even have the space for ductwork, nor may you have the space for an outdoor unit—particularly if you're in a multi-home complex.
3.      They Are Cost Efficient
The installation of a ductless system isn't necessarily more affordable than a central air conditioner. In fact depending on a number of circumstances, it may even be more expensive.
However, once installed you don't have to worry about maintaining two systems, replacing two systems when the time comes, or paying for high monthly energy bills—ductless systems use far less energy than traditional air conditioners (or heaters), making them more cost-efficient options overall.
4.      They Are Energy-Efficient
Did you know that a breach in ductwork could account for up to 30% of air loss into unoccupied spaces? This means if you're running a central AC or furnace with damaged ductwork, you're paying for home comfort you're not even getting!
Ductless systems avoid this problem altogether by not utilizing ductwork. Also, as we mentioned above, they use less energy. This is particularly true in the wintertime! True, we don't use our heaters too much. But when you need to, don't you want to pay as little for its use as possible?
For questions about our ductless services in St. Augustine, FL or to schedule your ductless installation, contact Climate Masters today! Serving St. Johns County since 1988 with quality, hometown service.