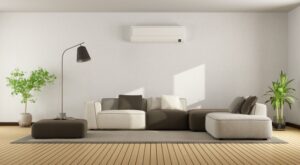 It may seem odd for us to be talking about heating at all, during this time of the year. After all, it's not like we need our heaters once spring hits. But if your heater was struggling this past winter, then it's not a bad idea to look into your replacement options sooner rather than later. This is especially true if you're considering a heat pump system—that is, a system that operates not only as a heater, but as an air conditioner as well!
Ductless systems have become increasingly popular for climates like ours—where summers are stifling hot and winters are mild (not to mention short). But, is a ductless system right for your specific home? These systems operate on heat pump technology, and as the name implies do not rely on a network of ducts. Rather, they consist of one outdoor condenser unit connected via refrigerant, power, and condensate lines to up to 4 indoor air handlers that can be mounted on the walls inside your home.
These systems have what's called a reversing valve, which is the component that allows you to switch between heating and cooling mode.
But is this right for your home? Read on to find out!
Consider Versatility
As we mentioned above, ductless systems can heat and cool your home, allowing for year-round comfort. Just with a simple adjustment on your thermostat, you can switch your ductless system from heating to cooling mode, and vice-versa.
Consider the Space You'll Save
If you've always had a ducted system, that may be all you know. But what kind of shape is your ductwork in? Over the years, the high heat of the Florida sun can really do damage to your air ducts, particularly if they're installed in the attic. If they're exposed in your basement they don't necessarily suffer from sun damage, but can instead fall victim to damage from rodents and pests.
With a ductless system, you don't have to worry about this, plus by eliminating your ductwork, you free up attic and/or basement space that you could use for other purposes.
Consider Costs
You don't need to worry about scheduling maintenance for two different systems each year when you have a ductless system in place, nor do you need to worry about repairing two different systems. We do recommend twice-annual maintenance for your ductless system, though!
Consider Energy-Efficiency
Ductless systems are far more efficient heaters than furnaces. This is because they use refrigerant to transfer heat, rather than relying on heat exchangers to generate heat. Additionally, the split air handlers can be controlled independently of each other.
So you don't have to heat or cool your whole home at once. You can direct the heat or air conditioning to only the rooms that need it. This means your system doesn't have to run as long, and therefore operates more efficiently—and subsequently more cost-effectively.
For quality air conditioning and heating in St. Augustine, FL, look no further than Climate Masters: Serving St. Johns County since 1988 with quality, hometown service. Contact us today!