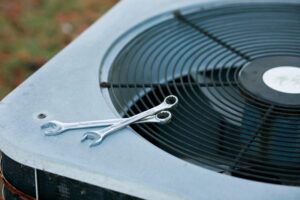 If you've ever read our blog before, then you might already know how much we talk about maintenance. This is due to how vital of an HVAC service this is. Many folks think this is a "luxury" AC service that only homeowners who can afford it get for their air conditioners. However, AC maintenance is really a preventive necessity, for a variety of reasons.
The primary reason maintenance is so important is that it allows our technicians to spot small wear-and-tear issues with your cooling system before they even have the opportunity to grow into a large repair need. This helps your cooling system operate more smoothly, and even last longer.
But what actually occurs during this service? Read on to find out!
The Steps of Professional Air Conditioning Maintenance
We are about to share these steps below with you not for you to attempt them on your own, but rather to stress the importance of only hiring a professional for this service.
That said, there are a couple of small maintenance tasks you can do on your own. This includes changing the HVAC air filter every 1-3 months during periods of system use and cleaning around the outdoor unit each season to make sure nothing disrupts airflow.
The rest should be left to the pros, and that includes:
Checking the evaporator and condenser coils to make sure they are not obstructed and they remain clean to absorb and release heat.
Checking the refrigerant level. Refrigerant is not a fuel, as many believe. It's a chemical substances used to make the cooling process possible. if your system is losing refrigerant, it means there is a leak that needs to be repaired.
Checking on the electrical connections and tightening them where needed.
Cleaning the condensate drain and pan so moisture that comes from the evaporator coils doesn't overflow them.
Cleaning and lubricating the fan and compressor motors to prevent mechanical stress that can lead to those motors burning out.
Checking that the thermostat is correcting reading the temperature, and recalibrating it if this is not the case.
Replacing or cleaning the air filter as needed. Yes, we did mention above how changing the air filter is a task you can and should do on your own. But we will still check on it for you, just in case!
These maintenance steps will reduce repair needs by as much as 85% throughout the lifespan of your air conditioner, help the unit retain up to 95% of its original efficiency rating, and prolong its lifespan as well.
Ask About Our Maintenance Program!
At Climate Masters, we offer a maintenance program membership that comes with exclusive benefits and discounts. For instance, while no repairs or improvements will be completed without your authorization following your maintenance session, the labor and materials needed for subsequent repairs come with a 10% discount.
Please reach out to our team today to learn more about the benefits and perks of becoming a member.
For reliable AC service and so much more, trust Climate Masters! Serving St. Johns County since 1988 with quality, hometown service. Contact us today.