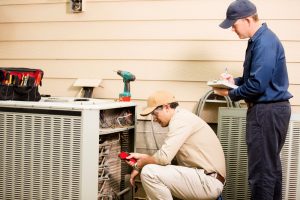 Are you thinking about upgrading your air conditioner? A lot of homeowners come to this same conclusion during this time of the year. We don't blame you for kicking your current air conditioner to the curb—no one should have to go through a summer in St. Augustine with a faulty air conditioner. Florida heat is no joke!
If you've started to search for a new air conditioning system, you're probably a little overwhelmed. If you need great St. Augustine, FL air conditioning, you can contact our professional team for service. We have all the right tools and knowledge to service your home expertly. Serving St. Johns County since 1988 with quality, hometown service.
Signs That Your Current AC System Needs to Go
Not sure when you should give your air conditioning system to boot? Watch out for these signs:
Your air conditioner is older than 10 years old
Your air conditioner is inefficient and can't cool your home adequately
You suffer from frequent air condition breakdowns or repair services
The repairs that you need are expensive
Your home doesn't get comfortable easily
Your home can't stay comfortable
Your air conditioner still uses Freon (R22 refrigerant)
There's an excess amount of moisture in your home
You hear strange sounds
Your smell very foul odors
You have high energy bills in your home
If you notice any of these problems in your home, it means that your air conditioner is ready to go. Although you might be dreading it, it's always better to service your air conditioning system sooner than later. Procrastinating on a replacement service is only going to make the problems you're facing worse and the process that you have to go through even more strenuous. Contact us today and we'll make the process as easy as possible.
Your Upgrade Options
There are so many options for you to upgrade to here in your home. You can upgrade to the following systems:
Central Air Conditioning Systems
Central air conditioning systems use a split air conditioning system (an indoor unit and an outdoor unit) connected various lines. The conditioned air from this system is distributed through a network of ducts in your home. Central air conditioning systems are reliable, energy-efficient, and effective. If you want a system to cool your whole home well, make sure you choose central AC.
Heat Pumps
Heat pumps are a climate control system that can both heat and cool your home from one unit. Heat pumps are constructed just like a central air conditioning system and they also use the ductwork in your home to distribute hot and cool air. This is a great option if you want eco-friendly AC.
Ductless Mini Split Systems
Ductless mini-split systems are great because they use individual air handlers mounted on the wall in specific parts of your home. If you need an air conditioning system to combat hot and cold spots in your home, you should contact us to learn more about ductless mini-splits.
Contact Climate Masters today to schedule an appointment with our professionals. We can help you upgrade your air conditioning flawlessly.