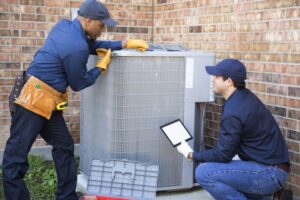 Most of the HVAC blogs you might read will typically recommend that you schedule air conditioning maintenance in the spring, and heating maintenance in the fall—before you need either system the most. But here in St Augustine, we pretty much need our air conditioners year-round. So what does that mean for scheduling? Well, it's never too early for an AC tune-up!
Is a tune-up necessary? Well, in short, yes. If you want your air conditioner to work as efficiently and effectively as possible for as long as possible, then you want to have maintenance done on the system at least once a year. If you're utilizing a year-round heat pump system, then this should be upped to twice a year. Read on to learn more!
The Ins and Outs of Maintenance
If you've never scheduled a tune-up for your AC before, or perhaps just don't know very much about them, then naturally you'll want to know why you even need this service. It enables our highly trained professionals to come in and comprehensively clean and adjust the interior components of your air conditioner, while checking for potential repair needs.
The steps we take during maintenance improve the longevity of the system, as well as the performance. We really can't stress enough just how important this service is.
The Timing of Maintenance
Like we mentioned above, the general recommendation is that you schedule your AC maintenance before you need the cooling system the most. This means early spring is typically the "best" time. Of course, in our area we're already dealing with warming temperatures, plus surprise heat waves really aren't as big of a surprise as they should be. The time of year you have your tune-up done is far less important than how often you have it done. Your AC tune-ups should be scheduled for once a year, at least.
Remember, as we stated above, if you have a heat pump system then you'll want to schedule maintenance twice a year. Heat pumps really never stop running in our area—and it's important that yours gets checked regularly.
Improved Comfort and Safety with Routine Maintenance
One of the main reasons we recommend that you stay consistent with your annual air conditioning maintenance is for the comfort of your household. Over the years, air conditioners stat operating less efficiently and effectively. Components begin to wear down due to natural wear and tear, just like what would happen to your car if you skipped auto maintenance.
Maintenance also keeps your household safe. "Wait," you might be wondering, "since when are air conditioner dangerous?" They're not, inherently. But trying to do repairs or tune-ups on your own can lead to injury. Plus, there are some components that could potentially be harmful. Refrigerant, for instance, is a potentially hazardous substance (particularly if you have an older system still using Freon) and if there's a leak it could lead to harm.
Fortunately, you don't have to worry about any of this if you trust our team for your AC needs!
When you're looking for reliable air conditioning maintenance in St Augustine, FL, give Climate Masters a call! Serving St. Johns County since 1988 with quality, hometown service.