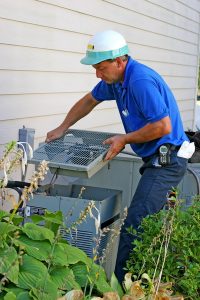 The short answer to this is, "no!" Well, okay, maybe it's not that simple. If your air conditioner has completely broken down to the point that it's beyond repair, then it is too late for maintenance. However, you can avoid this with consistent tune-ups, no matter the time of the year.
Air conditioning maintenance is something we typically recommend our customers have done in the early spring, given how consistently warm our weather is and how much work our cooling systems go through. Having maintenance done this early gives your air conditioner the best chance of making it through the entire summer season without the need for sudden repairs. Plus, it alerts us to small repair needs so you can get them on your schedule right away.
But as we said, consistency is what's important. As long as you're having AC maintenance done at least once a year (or twice a year if you have a year-round heat pump system). Read on as we illustrate why this is so important.
Summer Doesn't Take a Holiday!
In fact, around here, it rarely takes a break at all, right? Maintenance helps make sure that your cooling system is always ready to tackle summer temperatures, no matter how long our summers seem to last. The toughest heat waves can wreak havoc on a cooling system that's not properly cared for, leading to faster wear and tear and more chances for a complete breakdown.
An Ill-Maintained System Means Higher Utility Bills
In general, each year that your air conditioning system goes without professional maintenance, it loses around 5% of its efficiency. On the other hand, when you have your air conditioner tuned-up once a year, it can retain up to 95% of its original efficiency. When an AC system isn't working efficiently, it runs longer to try to meet your desired temperature, and this means that your energy bills will be higher than they would have been otherwise.
Make Breakdowns Less Likely
The most important reason to have professional maintenance done on a consistent basis is to avoid a sudden shut down of your air conditioner on an exceedingly hot day. There are plenty more of those ahead, and you want your AC system ready to handle each one, right?
Prevent Emergency Repairs
Why would you want to spend money that you would otherwise be using to enjoy summer on sudden, unexpected air conditioning repair needs? Even the simple precaution of a professional AC tune-up, no matter the time of year it happens, will take care of 85% of the repairs your air conditioner otherwise might need throughout its lifespan.
Ask About Our Maintenance Program!
When you enroll in our maintenance program, you'll get two HVAC maintenance visits a year—one in the cooling season and one in the heating season. Additionally, if any labor and materials are needed for repairs following your maintenance session, you'll receive a 10% discount off of total repair costs, which applies to emergency service as well. Contact for more info.
To schedule your next St Augustine, FL air conditioning tune-up, contact Climate Masters today! Serving St. Johns County since 1988 with quality, hometown service.