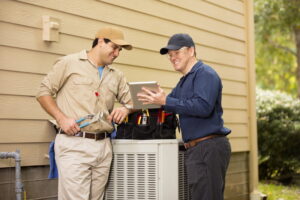 If you ask an HVAC contractor in almost any other part of the country, they'll tell you the best time for air conditioner maintenance is in the spring, before you need your system the most. It's not that this is untrue for folks in our area, but what matters the most wherever you are is that maintenance is done consistently, no matter the time of year.
In Florida, late-season AC maintenance can be necessary even if you had spring maintenance done this year, depending on just how hot and humid our summer was, and what kind of shape your air conditioner is in, age and repair wise. Ultimately, maintenance helps your system work more efficiently and last longer. So, regardless of the time of year, if you haven't had a tune-up in a year or so, go ahead and schedule it now! Read on to learn why this service is so important.
Summer Takes No Vacation
In Florida, there isn't really a "fall" or even a "spring" to speak of. We pretty much have summer year round, with an occasional dip in temperatures for our brief and mild "winter." Mainteannce helps make sure that your cooling system is always ready to combat warmer temperatures, no matter how long they last. Let's face it, our air conditioners go through a lot of work around these parts!
Energy Costs Spike When Maintenance Is Skipped
In general, each year that your air conditioning system goes without maintenance, it closed about 5% of its efficiency, and that dropoff gets steeper as the years go by. You'll find yourself paying more for your air conditioner each summer–which as we alluded to in our first point, lasts about 11 months out of the year.
Avoid Sudden Air Conditioner Breakdowns
The biggest reason to stay on top of your AC tune-ups each year (or every 6 months if you have a heat pump) is that it prevents your cooling system from unexpectedly breaking down on you during one of the hottest days of the year. There are plenty of those around here, and you want your AC system ready to get through each and every one.
Prevent Emergency Repair Needs
People are watching their budgets more than ever these days. Do you really want some of your hard-earned money to go toward an emergency AC repair you shouldn't have needed to begin with? That's what can happen if maintenance is skipped. During maintenance, our technicians thoroughly inspect your system. During this inspection, we adjust components that need it, and look for small issues that need repair.
This could be something as simple as motor bearings that have lost their lubrication. If you take care of this right after your maintenance session, you won't have a problem. If you ignore it or don't even know about it, then eventually the motor will create so much friction in your system it will overheat, breakdown, and leave you with a much bigger (and more expensive) repair need than you had to begin with.
To schedule AC maintenance in St Augustine, FL, contact Climate Masters today! Serving St. Johns County since 1988 with quality, hometown service.