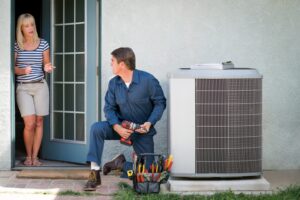 Central cooling is not just something that's "nice to have" in our part of the country. It's an absolute necessity, affecting not only your comfort but your quality of life. It's also one of the most specialized features of a home. This means while the average homeowner can take on projects like tightening a bolt to fix a plumbing leak, or replacing an outlet cover in the home, they should take on projects that involve fixing their air conditioner. But that's what we are here for!
Climate Masters provides exceptional central AC services, from quality installation to reliable repairs and maintenance. It's important to remember, however, that even the best air conditioner on the market, that's cared for diligently with maintenance each year, is going to suffer from natural wear and tear and you'll probably have a repair need here or there that you weren't expecting. This is especially true if your system is 10+ years old. So, what are some of the common central AC problems you should watch out for? Read on to learn about them!
Inadequate Cooling
This one is a pretty apparent problem, right? Your cooling system is supposed to be able to keep your home at an even, comfortable temperature. Poor cooling may mean something as "simple" as a gradual refrigerant leak. We say simple because it's simple for us to repair, but it is certainly not a minor problem and does require an immediate fix so it doesn't grow into something much bigger.
That bigger problem could be a failed compressor or an iced-over evaporator coil that's unable to absorb heat and do its job. The bottom line is, poor cooling requires a call to our professionals!
Poor Airflow
What if you notice that even though the air coming through your vents is cool, it's not as powerful as it once was? There could be a couple of potential things wrong here. It might be that your HVAC system's blower is starting to fail, or there might be problems with the ductwork in your home. If you notice that some rooms in the house are getting better airflow than others, this indicates an issue with your ducts.
Your ductwork can accumulate particles like dust and mold within its cool, damp environment. This more than an AC performance problem, too–it can be a health hazard for your family.
Thermostat Troubles
Something has to help control and regulate your AC system's temperature settings, right? That's the thermostat's job. Your thermostat is the brain of your HVAC system, and when something is wrong with it, it cannot send the right signals to that system.
Signs of a thermostat in disrepair can include things like an HVAC system that won't turn on or keeps running even after it has cooled off enough, a temperature reading that doesn't align with the actual temperature of the home, or uneven cooling throughout your home. Fortunately, thermostat replacement is a simple job for our team. You may even consider upgrading to a WiFi or smart thermostat!
For St Augustine, FL central AC repair and more, contact Climate Masters! Serving St. Johns County since 1988 with quality, hometown service.