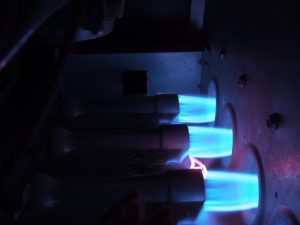 Winters in Florida aren't like other parts of the country. Let's face it, we've had New Year's Days that have clocked in at 90° before. It's almost laughable to even think about winter this early in the year. Still though, when temperatures do cool down, however briefly, you want a fully functioning heater doing its job well.
If you try to get by with a malfunctioning heater, you could find yourself with a plethora of repair needs, higher than necessary heating costs, and even a completely broken down furnace. For this reason, we can't stress enough how important heating maintenance is, as this service allows our technicians to thoroughly inspect, clean, and adjust your system for optimal performance.
It's not too late to schedule maintenance! Even with this service though, it pays to know what to look for in a malfunctioning heater—or in some cases, what to listen for. We've listed below 5 noises you never want your furnace to make (and if it does, please call our pros right away).
1.     Whistling
Your furnace system should never sound like a tea kettle. It's a strange noise indeed, to be coming from any appliance, but it's especially unsettling in a furnace. The good news is, it's usually the sign of a relatively minor problem—a clogged air filter. The air filter is what keeps dirt, dust, and other debris from accumulating on the inside components of your furnace. Fortunately, changing your air filter is something you as a homeowner can—and should—do on your own.
2.     Rattling
This is one of the more common sounds that owners of a malfunctioning furnace report. This sound is more than likely a loose component that's moving around during the operation of your furnace. If you hear it while your furnace is running, you want to make sure you have a pro come out to inspect. The thing is, with loose components, this can negatively impact other components of the furnace and caused increased wear and tear.
3.     Banging
A loud thudding, booming, or banging noise is a definite indicator of a malfunction. Unfortunately, too many homeowners ignore these noises if they're not frequent. But this can turn into a really big problem. It usually signals a burner hard starting as it burns through the dust and dirt that's accumulated on it over the years. This is something that can be prevented with regular maintenance. Letting it go on too long can result in damage to your heat exchangers, which becomes a health and safety hazard for your household.
4.     Rumbling
You may read this and wonder what the difference is between rattling and rumbling. When we say rumbling, we mean a low, grumbling sound versus the tinny, hollow sound of rattling. Rumbling is typically the sign of a problem with a buildup of grime on the heating components in your system.
5.     Screeching or Squealing
When you hear a sound like this, it's probably a sign that the system's blower or furnace fan is struggling for some reason. Out of all the noises we've listed here, this one if probably the most alarming—but all of the above mentioned sounds warrant a call to the pros!
For expert heater repair in St. Augustine, FL, contact Climate Masters today! Serving St. Johns County since 1988 with quality, hometown service.