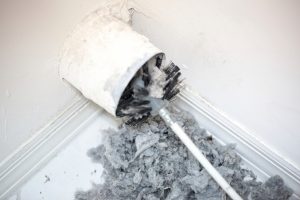 Ah, summer. The time when everyone locks themselves indoors, cranks their air conditioners all the way up, and tries not to think about the horrible heat and humidity lurking just outside. What, you don't do that? Well, if you plan on using your air conditioner at all over the next few months, there are a few steps that you should be taking to make sure that it's ready for the summer heat. One preparation that altogether too few homeowners make is getting their ducts cleaned, which can have an effect on both their air conditioning and their indoor air quality. If you haven't had your ducts cleaned in a while, read on to find out why it's actually a very good idea.
Indoor Air Quality Concerns
The main reason to get your ducts cleaned isn't to improve your air conditioner efficiency (although it does). It's actually to keep you healthier. The average home's air is full of all kinds of microscopic airborne contaminants. Dust, dander, pollen, germs, mold spores, etc. can all have some nasty effects on your health if you inhale them in large enough amounts. Summer tends to make this worse, as people eliminate fresh airflow into their homes by closing all their doors and windows to make air conditioning more effective.
The ducts tend to be the biggest contributor to poor indoor air quality, though. They don't get cleaned nearly as often as the other areas of the home, which makes them a common gathering place for the contaminants found in the home's air. The dust and other particles build up in the ducts until a climate control system is turned on, at which point they're blown around the house. That's obviously not good for your health. Duct cleaning helps to remove these contaminants from your home, improving your health and comfort in the process.
Air Conditioner Efficiency Boosts
Along with wrecking your indoor air quality, having all of that junk in your ducts can also damage your air conditioner's efficiency. The dust can insulate the ducts, making it harder for your climate control systems to force air through them. This makes it take longer for your air conditioner to cool your home, adding to your monthly operating costs in the process. Duct cleaning will ensure that your air conditioner can properly cool your home, improving its energy efficiency and ensuring that you stay nice and cool throughout the summer season.
So, if you haven't had your ducts cleaned out in a while (or ever) now is a perfect time to do it. By the time summer gets into full swing, your air conditioner will be functioning better and you'll be more comfortable. Have a professional clean out your ducts soon, and you'll be glad you did later.
Climate Masters provides duct cleaning services in St. Augustine, FL. If you need to have your ducts cleaned out for you, contact us today to schedule an appointment with one of our professional technicians. We'll make sure that you get the most out of your air conditioner this season.