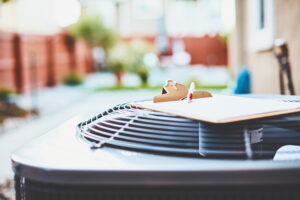 Summer is officially upon us… though in our parts it's pretty much always summer, right? So when you use your home's central air conditioning system, you want to do so as efficiently, and therefore as affordably, as possible. Hopefully, you had your spring tune-up done already so your air conditioner has its best chance of operating well all summer long. If not, don't worry! It's not too late—give our team a call to schedule your next tune-up.
Even without your maintenance tune-up though, there are still actions you can take that will increase the efficiency of your air conditioner and therefore lower your overall energy costs. Keep reading as we uncover some tips on how to achieve more efficient AC use.
Raise the Temp On Your Thermostat
We get it, this probably sounds like pretty strange advice to you. Why would anyone want to make it warmer than it should be in their home? Well, the reality is that most homeowners make it cooler than it actually needs to be. To maintain comfort, most indoor occupants can deal with a temperature setting of about 78° just fine. Of course, if you're having a house party and multiple people are moving around in the home, then you may want a little bit of a lower setting. But if it's just you and your family doing your daily activities, try to stick with the more reasonable setting.
Some people set their thermostats at 71-72°F, thinking it will help their homes cool down faster. There are two problems with this, however. First off, there is a temperature differential to think about. Never heard of this? What this means is that your air conditioner cannot cool your home down any lower than 20°F below what it is outside. So if it's a 95° day outside, running your air conditioner at 72°F is only going to disappoint you and make your air conditioner run longer–which brings us to the second problem. Even if it's a mild day outside, the lower you set your thermostat, the longer your air conditioner will run. The longer the cooling system runs, the more energy it uses and the more expensive it is to operate.
Use Your Ceiling Fans
Ceiling fans are not capable of lowering the temperature of your home or a room in your home. What fans can do, however, is make you and your family feel cooler. This is because fans help sweat to evaporate off of your skin in order to keep you cool. So when you run your ceiling fan in combination with your air conditioner, it helps circulate the cooled air and cool you down even faster. As a result, you can turn up the temperature on your thermostat a little bit, and therefore give your air conditioner and energy use a break.
Change Your Air Filter
There are not a lot of maintenance tasks that we would ever recommend a homeowner do on their own. However, changing the air filter is absolutely something you can and should do on your own! This filter should be changed every 1-3 months. Otherwise, it will get clogged up and restrict airflow going into your air conditioner. Therefore your air conditioner will have to, again, run longer in order to compensate and try to cool your home.
Contact Climate Masters today for quality HVAC service in St Augustine, FL. Serving St. Johns County since 1988 with quality, hometown service.