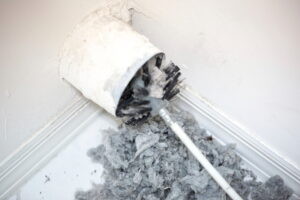 If you're anything like the average homeowner, you probably don't think very much about the ductwork running through your home. This makes sense! After all, ductwork is usually hidden up in attics, in the crawlspace, or even behind drywall. You shouldn't really need to think about your air ducts that much, let alone what condition they're in.
However, it is actually important to think about this from time to time. They do need some attention after all. You do not need to know all the ins and outs, but there are some things we'd like to share with you about how dirty ductwork can impact your indoor air quality, as well as your HVAC efficiency. Read on to learn more about these two reasons that professional duct cleaning is totally worth it.
1. Professional Duct Cleaning Improves Indoor Air Quality
The primary reason most homeowners have professional duct cleaning scheduled regularly is to improve their overall indoor air quality. Yes, it's true that your HVAC systems have air filters. YOu may even have whole-house indoor air quality products in place to help, too. However, these are placed at the return duct, where air first comes into your HVAC system–while the rest of your ducts, the part blowing air into your home, goes unprotected.
Particles such as dirt, dust, allergens, and germs can get inside your air ducts through cracks in the ductwork itself, through your vents, and even from years of sitting untouched. Our professional duct cleaning sees that a professional technician uses special tools to effectively remove this debris, ridding your home of the stubborn allergens and germs that could otherwise make their way in.
2. Your HVAC Equipment Will Work Better
All the dirt and debris that could be sitting in your air ducts right now can interfere with the performance of your forced-air AC system and heating system. The most efficient HVAC systems cool or heat the air, and then blow it back out to the rooms of your home via the most direct route–your ductwork. Therefore, dirty ductwork can create friction and resistance that will slow down the air.
If your air ducts are allowed to get too dirty, you may end up paying more for your air conditioning and heating than you should have to. Worse than this, there's a very good chance that your air ducts have undetected leaks, and you could use a professional to assess whether any part of your ductwork actually needs repair or replacement–we can thoroughly check your ductwork during your duct cleaning appointment!
Why You Should Only Trust a True Professional
There are services out there who will offer "cheap" duct cleaning. This is one of those services that's only needed every few years, and unfortunately, people can use it to make a quick buck, without actually thoroughly cleaning out your ductwork. You want trained and experienced HVAC professionals to conduct this service for you so that you don't need to worry about paying for a service you're not getting and you don't have to worry about its effectiveness.
For reliable St Augustine, FL HVAC service, contact Climate Masters today! Serving St. Johns County since 1988 with quality, hometown service.