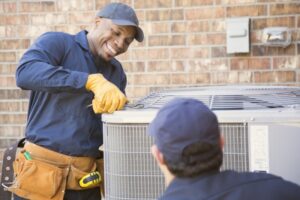 If you're a regular follower of our blog, then you already know we talk about maintenance … a lot! This is because of how important the service is. Many homeowners mistake this as a sort of "luxury" service that only people who can truly afford it get for their heaters and air conditioners. However, maintenance is a necessity for many reasons.
For instance, maintenance helps our professionals spot small issues with your air conditioner before they grow into much bigger ones. In turn, this helps your system operate smoother and last longer, which is great news for your budget. But what actually happens during maintenance? What is it our professionals actually do?
Leave It to the Pros
For the most part, air conditioner maintenance should be left to the professionals. However, there is one task in particular that you can, and should, do on your own. This is changing the air filter! Our professionals are happy to show you how to do this if you're unsure how to handle it yourself.
Changing a clogged-up air filter helps improve airflow and cooling system performance overall, so that it doesn't have to run as long and essentially work as hard to do its job.
Aside from changing the air filter every 1–3 months, the rest of the maintenance should be left to the pros. During maintenance, we'll follow these steps (this is not a comprehensive list!):
Check the condenser and evaporator coils to make sure they're unobstructed, clean, and able to absorb and release heat.
Check the refrigerant level to ensure it doesn't have to be recharged (refilled). If it does, it means you have a leak, which also must be located and repaired.
Check all the electrical connections and tighten them wherever necessary.
Clean the condensate pan and drain so that moisture from the evaporator coils doesn't overflow them.
Clean and lubricate the fan and compressor motors to prevent mechanical stress that can lead to these motors burning out.
Check the thermostat to ensure it's correctly reading the temperature and it's not miscalibrated.
Check or clean the air filter if necessary. Yes, we just said above that you should be doing this on your own. But it's also something your professional HVAC technician should be checking during maintenance, too.
The Importance of Routine Maintenance
Annual AC maintenance is vital to the functionality and longevity of your air conditioning system. Without this service, you'll find yourself facing a number of problems with your AC, like:
Inefficient Performance: Every year that you skip your air conditioning maintenance appointment, your system's efficiency level can drop about 5%. This means that in just a few years, you'll find your system is costing you more to run than it should, wasting your money.
Increased Repair Needs: We estimate that about 85% of the repairs that your cooling system may ever need in its lifespan are actually avoidable if the system has regular tune-ups. Cutting down on all these unnecessary repair needs means you'll save money and enjoy more consistent comfort.
To schedule your professional air conditioning tune-up in St. Augustine, FL contact Climate Masters today!