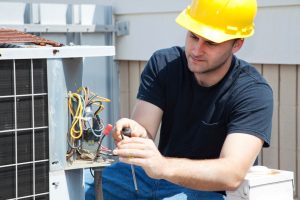 Have you ever avoided checking your bank account when you were younger because, hey, as long as you don't check it you'll have enough money, right? It's a common thing for people to avoid taking proactive, preventive steps to keep their bank accounts, bodies, cars, etc. in good condition. Lots of people wait to deal with issues until they start to notice symptoms of a problem, because they don't want to be bothered or deal with the anxiety of dealing with issues early, or what have you.
The problem with doing that is that it doesn't actually make those problems go away. It just gives them more opportunities to harm you before you correct them. Have a look at why neglecting air conditioning maintenance is just setting yourself up for further issues in the future, and how scheduling maintenance on a regular basis actually grants a lot of advantages.
The Importance of Air Conditioner Maintenance
Air conditioning problems typically don't show symptoms unless they've been developing for a while. That's a big part of the reason why it's a mistake to wait for warning signs to show themselves before calling a technician. By the time you notice that your system is having a problem, it likely will have already been damaged by it. The best way to protect your air conditioner from problems is to catch them as early as possible, and that means scheduling preventive maintenance.
Preventive maintenance, done on a regular basis, can reduce the odds of your air conditioner developing a serious problem by up to 90%. It can also increase the energy efficiency of your system by up to 40%. This represents a massive amount of savings over the life of your air conditioner, which will be longer because you have it checked out on a regular basis.
When to Schedule Preventive Maintenance
The ideal time to schedule maintenance for a traditional air conditioner is every spring. This ensures that the system is in the best possible shape before it's put under the most stress. It also makes it a lot easier for you to take advantage of the added energy efficiency, considering you're going to be using the system on a regular basis over the coming months. If you miss that spring window, though, you should still schedule preventive maintenance for your system as soon as possible. Skipping a maintenance appointment entirely only gives the system more opportunities to develop issues.
So if you haven't had maintenance done on your air conditioner yet this year, now is the time to do it! You have nothing to lose and everything to gain by making sure that your air conditioner is as healthy as possible this summer.
Climate Masters provides comprehensive AC maintenance services in St. Augustine, FL. If you need to schedule preventive maintenance for your air conditioner, contact us today to schedule an appointment with one of our expert technicians. We'll keep your air conditioner in top condition throughout the summer.