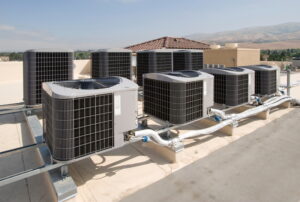 Whether you have a home with a flat roof and little yard space, or you own and operate a commercial space that can't afford to have valuable parking lot real estate taken up, packaged HVAC units provide a solution to the cooling and heating needs of many properties throughout St Augustine and the surrounding communities.
If your property doesn't accommodate a traditional split air conditioner–split meaning one outdoor unit and one indoor air handler–then you can opt for the installation of a packaged HVAC system. Unsure of how this works or benefits you? Read on to learn more!
What Really Is The Difference Between Split and Packaged HVAC Units?
You might be wondering what the difference is between a split air conditioner and a packaged system.
Like we mentioned above, most HVAC systems are split-systems, with an indoor evaporator unit and an outdoor condenser unit. But this can be hard to accommodate if you don't have a large yard or even a large home, or if you manage a commercial space that doesn't have anywhere to put an HVAC system–this is especially dire if your business is at the top of a high-rise.
Packaged HVAC systems are set up completely outdoor, typically on a rooftop, up and out of the way. They're ideal for both commercial spaces and residential buildings that have a flat roof to install them on. With a packaged HVAC system, all the coils that are involved in actually cooling your home are packaged in one outdoor unit that's attached to your property via ductwork.
Is a Packaged HVAC Unit Right for You?
We touched on a couple of the benefits of a packaged HVAC unit above, but we want to cover some of the biggest advantages so that you can decide for yourself if this is the right solution for you!
Outdoor Setup: Not only is this great if you don't have a lot of space inside your property, or like we said above if your business is in a high-rise building, but it also means that if you need to have it maintained, your HVAC professional can service the system without ever entering your property. This means if your property is a commercial building, you don't have to risk a business interruption.
Easier Maintenance: There's that "M" word again! Maintenance is vital to keeping your air conditioner working as efficiently and effectively as possible, for as long as possible–so we talk about it a lot. But the great thing about a packaged HVAC unit is everything is housed in one spot, which makes maintenance easier–and more importantly for you, quicker!
We Provide Residential and Commercial HVAC Services
Whether you're looking to have a brand new packaged HVAC system installed or you need repairs on your existing air conditioner, we're the team to call. We've been serving your area for over 30 years, and have expertise in all HVAC operations, both residential and commercial!
To learn more about packaged HVAC units in St Augustine, FL, contact Climate Masters today! Serving St. Johns County since 1988 with quality, hometown service.